The President, once again, helped boost the economy today. When he went Christmas shopping at a local Best Buy and Petsmart to buy gifts for the First Family.
He bought
Just Dance
for the girls, a bone for Bo and other gifts.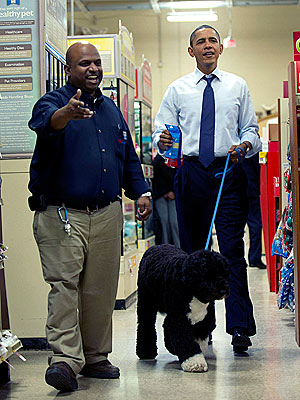 He was accompanied by First Dog Bo. Michelle, the girls and the rest of the family have already left for Hawaii.
While
The President has remained in Washington, as he continues to try and resolve the Pay Roll Tax issue, even though most House Republicans (who are the major obstacle) have left for their vacations! But what do you expect of
Scourges
?
I just love President Obama and all the work he has done, is doing and trying to do for this country and the rest of the world!!!
--Princess Carter
Credit: CBS, Politics Nation and People