Our POTUS gave a rousing speech last night, his best
State Of The Union Address
yet. In it he outlined his
Blueprint
for America
. He also stated his many accomplishments:
22 straight months of job growth, The End of The Iraq War, Healthcare Reform, The Auto Industry Bailout (GM is once again #1 in the world) and more.
It's all about Jobs, Tax Reform/Tax Equality, Clean Energy and the continued redevelopment of our manufacturing industry.
Here's an excerpt from
Whitehouse.gov
(the entire
Blueprint
can be viewed there)
:
In his State of the Union Address, the President laid out a blueprint for an economy that's built to last – an economy built on American manufacturing, American energy, skills for American workers, and a renewal of American values.
The President believes this is a make or break moment for the middle class and those trying to reach it. What's at stake is the very survival of the basic American promise that if you work hard, you can do well enough to raise a family, own a home, and put a little away for retirement.
The defining issue of our time is how to keep that promise alive. No challenge is more urgent; no debate is more important. We can either settle for a country where a shrinking number of people do really well, while more Americans barely get by. Or we can build a nation where everyone gets a fair shot, everyone does their fair share, and everyone plays by the same rules. At stake right now are not Democratic or Republican values, but American values – and for the sake of our future, we have to reclaim them.
Watch the entire
State Of The Union Address
here, the President was very inspiring, now let's hope Congress does their part!!
Our FLOTUS looked stunning last night in

a cobalt sheath from Barbara Tfank's resort collection.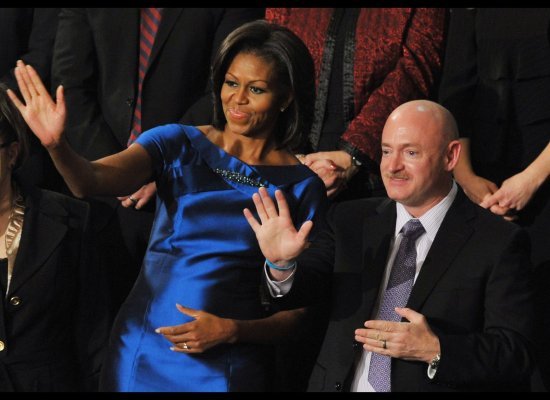 --Princess Carter
Source: Whitehouse.gov; Photos Credit: Whithouse.gov