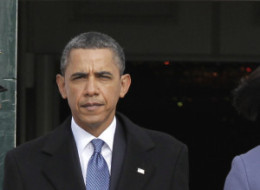 T
oday, President Obama held a nationwide moment of silence at 11:00 am, in support of those affected by this weekend's deadly shooting massacre in Tucson, Arizona. It was a tragic event that took the lives of
six
, one of which was a nine year old girl, another was Judge John Roll.
Nine year old, Christina Green, was born on a very special date, the original 9/11. Her father John Green told,
The Today Show
, that Christina's birthday and final day had commonalities, stating that she was born during the tragedy of 9/11 and died during a tragedy.
Image by Getty Images via @daylife
There were also seventeen others injured, including
Congresswoman Gabrielle Giffords (D-Ariz.). Doctors have placed her in a medically induced coma.
The suspect has been apprehended and has a long history of disruptive behavior and apparent mental health issues. He was even kicked out of college because of disruptive behavior.
Below is the President's address to the nation:
--Princess Carter