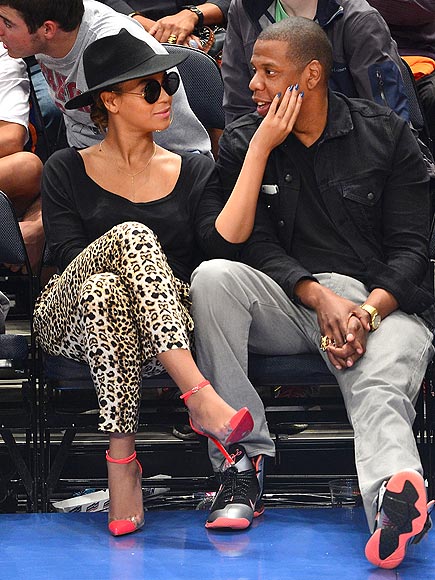 Enjoying the Knicks game at MSG, check out Jay's team spirit (his sneakers).
The Carters, fresh off their St. Barts vacay, have been out & about enjoying all things NYC. Jay and B took in hometown favorites the Knicks -vs- Miami on Sunday. The new parents also had lunch at Bar Pitti.
Then on Monday, B and baby Blue were snapped walking through Central Park. Little Blue is such a butterball. A beautiful little Princess. On Monday night they took in Jay's Nets in Newark.

B and Baby Blue walking through Central Park, Blue's a little Butterball!!!
Check out more pix of The Carters and their NYC adventures below.
 Watching Jay's Nets on Monday:
Enjoying the Nets on Monday.

Going to Lunch & Knicks game:
B snaps her own photo of her and Jay's coordinated love.
Credit:Beyonce.com
 Walking through Central Park with the Princess:
The Nets Game:

The Knicks at MSG on Sunday:
The Lunch Date:
--Princess Carter