Jay's week started with the celebration of his three year anniversary with B in the Bahamas, on Monday April 4th.
That same day he went Social with the launch of his
Life + Times
site. A Life Style site based on his own interests and love of music, art, politics, life, innovation and pop-culture.
He released his first collaboration with Sade (her first rap collaboration), the remix to
"Moon And Sky,"
on
Life+Times
on Friday. It's a smooth, sexy, summer jam! Jay blessed it.
Roc
Nation label further expanded their market share with the acquisition of online music company
Block Starz LLC
. The German-American music company is a full-fledged music label completely online. Nice move Hov! I wonder what kinds of projects this will lead to? Allhiphop.com reports the Roc bought the label to scout, market and develop new talent.
This week he also received his first fine as an NBA owner. Jay's Nets were unfortunately fined $50,000 for his visit to Kentucky after their historic NCAA win. Reminding him that he's more than just a basketball fanatic he's also an owner. You're not an owner until you've been fined!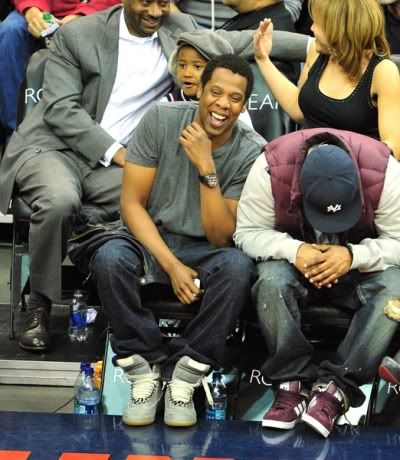 I'm sure he won't admit this one, but, the Knick win against the Nets must have been a bittersweet victory. I mean how can anyone who loves NYC as much as Hov does really be mad about a Knick win? Especially a six game winning streak! We know you're looking forward to the playoffs Mr. Carter!
--Princess Carter