The Queen
took Serbia Monday night, kicking off her sold out
Mrs. Carter Show World Tour
in Belgrade. She sang, danced, stunned and sent the crowd into a frenzy...basically she owned the night.
Mrs. Carter
kicked off the night wearing a costumed gold flesh-toned one piece, by The Blondes, that had everyone talking...she must have, had that one made especially for Mr. Carter, ha!!! B, opened the show, with
Run The World Girls
, taking the crowd on a magical journey, with a night full of hits, and incredible vocals.
Roc'n The Blondes.
And she didn't disappoint with her wardrobe either. Wearing custom made pieces by The Blonds, Givenchy, Vrettos Vrettakos, and Ralph & Russo, just to name a few, of the famed designers she roc'd on stage. Yesterday, B uploaded some of her looks. Check out photos below.
And continue to Bey Incredible, B!!!

B rocs The Blonds.
In one of my favorite looks, a cobalt blue hand-beaded, jumpsuit, by Vrettos Vrettakos.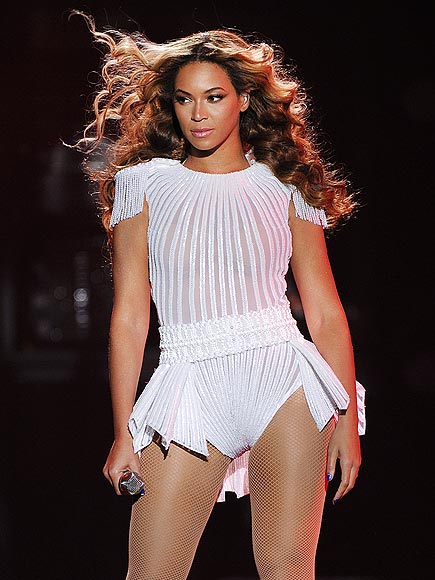 In other Royal news...

B talks to
British Vogue
about Blue & Jay:


On Blue's love of music:
''Right now, she just likes tempo. She likes salsa - anything with a beat. Which makes sense because I was on tour when I was pregnant, and then I went on her dad's tour and the 808 was probably shaking the womb...''
On Jay & their bond:
''I'm still very protective of our relationship and always will be. But I think he's very proud because he's been there every step of the way. ''The film was such a big part of my growth... He's just very proud that I was bold enough and confident enough to do something that was a dream.''
And Mrs. Carter for
H&M's
Summer Line:
--Princess Carter
Sources: Beyonce.com, Global Grind, H&M & People.com