It's been quite
a week for Jay
.
Today he took over New York's Pace Gallery to shoot the video for "Picasso Baby". One of the many gems, off his new album,
"Magna Carta Holy Grail"
.
During his
Twitter Q&A
, Jay was asked if he'd completed any new visauls for
"MCHG"
. He response was that, he'd already completed "6 pieces of art". So does that mean "Picasso Baby" is number seven or one of the six...hmm.
Jay was at the gallery for six hours performing "Picasso Baby" live--footage from the performance will be used in the final video for "Picasso Baby".
He was joined by performance artist Marina Abramović, Judd Apatow, Wale, Jerry Saltz and a diverse group of fans. The gallery's white walls are going to create one hell of a canvas. I can't wait to see the final project.
Footage from the six hour shoot immediately hit the YouTube and Vine. MTV posted footage as well.
"It ain't hard to tell / I'm the new Jean-Michel / Surrounded by Warhols / My whole team ball / Twin Buggattis outside the Art Basel / I just wanna live life colossal / Leonardo Da Vinci flows / Riccardo Tisci Givenchy clothes / See me throning at the Met." --JAY Z "Picasso Baby"
Check out more clips and photos below.
Photos: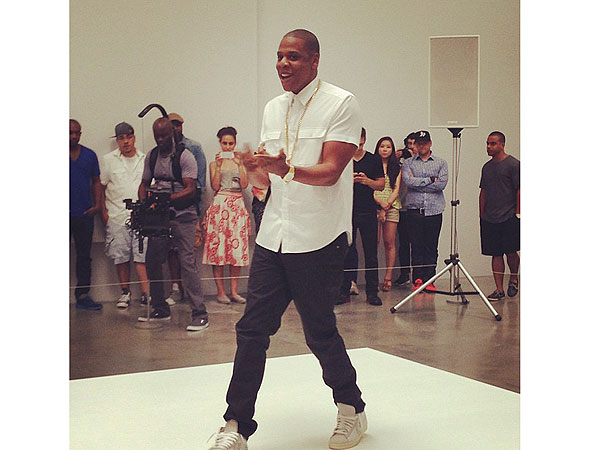 Vine Crazy:
Jay leaving the gallery:
Jay's "Dead Presidents 3":
--Princess Carter
Sources: Billboard, MTV, Global Grind, CEDAR via Vine, People & Zimbio