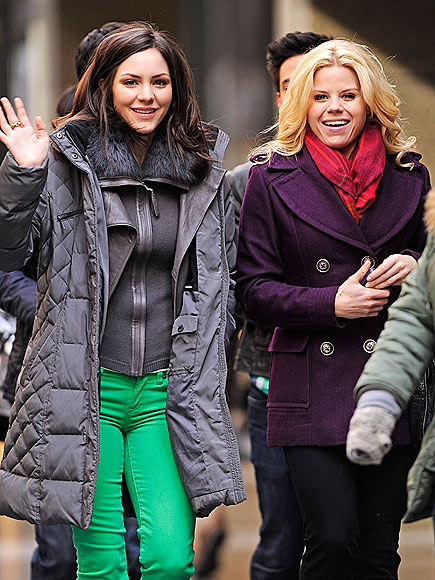 Katharine McPhee and Megan Hilty film
scenes in NYC
Smash
is a new
musical dramedy series
that's a behind the scenes look at New York's competitive Broadway scene.
The Synopsis:
Written by the successful songwriting duo of Tom

(Tony Award nominee Christian Borle, "Legally Blonde: The Musical")

and Julia

(Emmy Award winner Debra Messing, "Will & Grace")

.
Julia recently began the process of adopting a child with her husband Frank

(Tony Award nominee Brian d'Arcy James, "Shrek the Musical")

of many years, but her focus is torn when she has the opportunity to write another Broadway hit.
A rivalry soon forms for the lead role between a youthful, inexperienced Midwestern beauty Karen

(Katharine McPhee, "American Idol")

- who is trying to find fame in the big city against all odds - and stage veteran Ivy Lynn

(Megan Hilty, "9 to 5: The Musical")

, who's determined to leave the chorus line and finally get her big break.
A tenacious producer Eileen

(Oscar winner, Anjelica Huston, "Prizzi's Honor")

discovers the "Marilyn" project and jumps on board with a brilliant director, Derek

(Jack Davenport, "Pirates of the Caribbean" films)

- whose talent is matched by his cunning and egocentric amorality. Jaime Cepero

("Porgy and Bess")

stars as Ellis, and Raza Jaffrey

("Sex and the City 2," "MI-5")

stars as Dev. (via NBC)
And a preview of Monday's episode:
The Cast:

Megan Hilty as Ivy
Megan Hilty stars in NBC's musical drama "Smash" as the seasoned triple-threat Ivy Lynn, an ensemble performer who has spent years pursuing stardom only to be bumped back into the chorus again and again. Ivy seeks to know whether she has finally earned her place in the spotlight or if she is destined to remain a minor player.
Katharine McPhee as Karen
Katharine McPhee stars in NBC's musical drama "Smash" as the talented but green Karen Cartwright. Newly arrived from Iowa in pursuit of her Broadway dream, Karen must learn to navigate the shark-infested waters of the professional theater to win the role of a lifetime against her competition, stage veteran Ivy Lynn (Megan Hilty), all while maintaining her integrity.
Sure to become a fan favorite, he brings humor
& wit to all his scenes, I luv him!!!!
Jaime Cepero as Ellis
Jaime Cepero stars as Ellis, assistant to composer Tom Levitt (Christian Borle) on NBC's new musical drama "Smash." Armed with irresistible charm, boundless ambition, razor-sharp intelligence, and ruthless determination, Ellis seeks to rise to the top of the showbiz heap in "Smash" - which marks Cepero's television debut.
--Princess Carter
Credit: NBC